3 Critical Questions that Incite Possibilities for Social Connections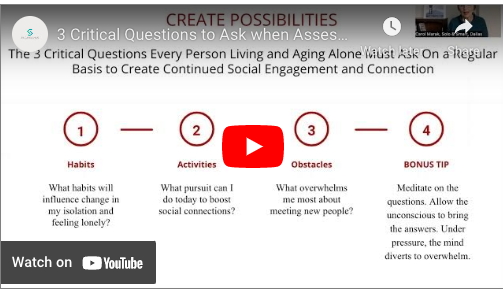 Dear Carol,
Being a solo adult, I have learned the significance of friendships. (But don't get me wrong..I still adore my alone time.) When growing older, it's important to be surrounded by people who care about us and who have our back. Years ago, when living in the suburbs, I missed being nearby close friends and considered different ways to rectify the isolation. However, I didn't know where to start, so I launched a Google search. And overtime it grew into a major project which incited opportunities. Watch the video to hear what I asked Google.
Today, social connections are the least of my worries... woohoo! But if you're feeling disconnected, I encourage you to do the same. The next time you have a web browser open, do a Google search and ask different questions. Feel free to use one or all three of my questions. I bet you'll come up with a treasure trove of your own!
COOL RESOURCE
Here's a great resource that I've used for close to four years—SnugSafe. It's my daily check in app. I use the free version but Snug offers a subsription that comes with a few more safety features. If you download the app, please use my affilitate code SOLO10 which gives you a 10% discount.
---
Want to feel more confident about being solo? Book a 50 minute call with me to find out how I can help simplify your challenges of aging alone.
Appointment Type: Designing a Better Future Discovery Session
Happy Thanksgiving!
Carol Marak
I simplify the complexities of aging alone.