SOLO AND SMART BOOK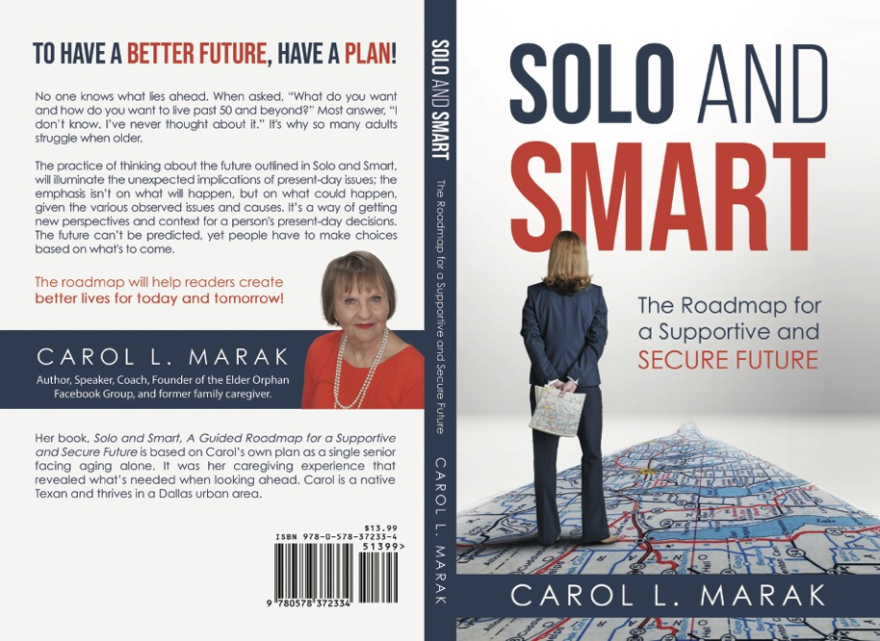 When author Carol Marak was helping to care for her aging parents, she got a wake-up call. Who, she wondered, would help to care for her when she grew older? The struggles Carol's parents faced were warning signs of what she could expect in her future.
Divorced and childless, Carol lived alone in a suburb and had little savings. Caring for her parents required a massive effort involving three siblings and numerous professionals. That care could someday be needed for her—only she would not have family nearby to step up to the challenge.
Carol teaches readers an easy, surefire method to assess, discover, and plan—giving them full control over how they want to live in the years ahead. Readers will identify and evaluate the current challenges and then build the skills and confidence to get ahead of any landmines. She teaches readers not only how to age well but how to live well—by shaping the future they want rather than reacting to it.
Carol is living proof. Using the blueprint outlined in this book, Carol has created a successful, thriving lifestyle. She is independent, connected, safe, satisfied, healthy, and strong. This is what readers can enjoy if they follow the processes in the book.
In SOLO AND SMART, Carol speaks directly to the growing population of "solo agers," or people age 50 and up who will not have the traditional familial supports most of our ancestors counted on. The number of adults who live alone and far from family is growing.
Even those who have children cannot count on their help. The number of older adults who live within 10 miles of a relative fell by 12 percent. It's common for siblings and children to live far away from one another, and the days of the three-generation household are, for the most part, long gone.
Over the next forty years, solo aging is expected to be a major source of stress for close to 25 million of the sixty-five-plus population. If you're aging alone with little to no support, you can help yourself by creating a plan of action to navigate common long-term challenges, including:
Diminishing health and high medical costs

High-cost housing

Finding suitable living spaces

Outlasting money

Isolation and loneliness

Remaining active

Lacking support of like-minded friends

No help with personal care when needed

Finding transportation

Losing independence
Solo Aging is unique among books for baby boomers in that it:
Teaches readers not just how to age well but how to

live

well.

Offers a step-by-step process for people 50 and older to prepare for their future.

Provides a clear roadmap for redesigning the experience of aging well into midlife and beyond.

Empowers readers with simple and concrete strategies, processes, and timelines.

Addresses the expected and the ever-evolving changes and challenges that the advanced years have.

Shows readers how to generate do-it-yourself strategies for self-help and support.

Focuses specifically on reinventing work and passion and creating personal networks.

Is based on the personal experience of the author, as well as research done with Facebook group members.
Aging alone without a framework feels uncomfortable, worrisome, stressful, and confusing. Instead of drifting or settling for what life gives them, readers learn that if they plan properly for better health, financial security, how and where they want to live, and create connection and support—as well as confront other issues that will disrupt their future happiness—they put themselves in the best position possible to enjoy life, no matter their age, to the fullest.